5 easy tricks to boost your confidence before an interview
Worried about sabotaging yourself? Take a deep breath and try these 5 things.
You've found a job that ticks your boxes and you've managed to convince the employer with a shiny CV that you tick theirs. High five! Now there's just the small matter of the interview to get through…
Unfortunately, knowing we've got the skills, qualities and attitude to be great at the job doesn't automatically mean we'll ace the interview. Fear can hugely shake your confidence, especially if you've missed out on roles through the interview process in the past, so we asked Jo Usmar, author of This Book Will Make You Confident, to talk us through five easy tricks that will calm our interview nerves.
Practice
Do an interview role-play with a friend with some prepared questions (interview questions tend to be CV, behavioural and role-based) and ask them to throw in a couple of surprise ones to take you off-guard. Prepare answers that focus on your skills, knowledge and experience and match it to the job description.
Carry a 'happy memory scent' with you
Having a big sniff of a smell that reminds you of a good time or a pleasant memory just before the interview can help to calm you down. The olfactory bulb, which processes smell, is heavily connected to the parts of your brain that process memory and emotion (which is why a whiff of a certain perfume can give you a blast of nostalgia), making you feel better and more in control.
Visualise yourself succeeding
When we're nervous we make up worst case scenarios in our heads that are total rubbish, but because we visualise them happening - because we actually see ourselves fall off our chair or insult our potential new boss – it seems likely to happen. This triggers the same panic in your body as if it had actually happened (heart racing, nausea, sweaty palms, cold feet).
So, imagine yourself succeeding instead. Athletes and actors often practise this technique before competing or performing. It puts their mind and body in the best possible place to recreate in reality exactly what they just saw in their head.
Close your eyes, clear your mind and take some deep breaths, breathing in through your nose and out through your mouth.
Now picture the most confident version of yourself you can imagine. You on your best ever day. What are you wearing? How are you standing? Physically echo the posture and stance of this version of you. Lower your shoulders, stand tall and keep your chin up.
Run through exactly what you want to happen – every last detail – in your head. The ideal interview scenario. What does this confident version of you say, do, think and feel? It's a movie and you're the director. You are in total control.
Watch the entire scene play out until the final handshake and walking back out the door.
Don't worry about messing up
Messing up actually makes you more likeable. In a study, psychologist Elliot Aronson played recordings of people answering a quiz. In one of the recordings an actor 'accidentally' spilled coffee over himself and everyone listening voted that guy more likeable than the others. So, if you fluff an answer or lose your thread, just take a deep breath and say, "Sorry, I'm a little nervous". No one likes a robot. Messing up, taking a moment and collecting yourself, will make you seem relatable and will show you care.
Fake it
Just as actually feeling confident makes you look confident, learning how to look confident will make you feel more confident. It works both ways – a bit like how smiling can cheer you up. A study published in the European Journal of Social Psychology found that subjects who sat up straight in their chairs instead of slouching were more confident about the things they were then asked to write down. If you project an aura of capability people will respond to it. You can become that person. If you look the part, you'll feel and act the part too. Here's how:
Smile 
Walk purposefully 
Be well-turned out, not scruffy. But make sure you're comfortable in what you're wearing 
Use 'open' body language. i.e. don't use body-barriers, like crossing your arms or leaving your bag on your lap
Don't fidget
Maintain eye contact 
Stand tall, sit up straight  
Head and chin up
Shoulders back and relaxed 
Have a firm handshake (two shakes and don't put your hand over the top of theirs – that's a power-play move)
Jo Usmar is the author of This Book Will Make You Confident and seven other self-help books in the This Book Will Make You series
---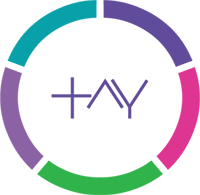 Tay
Tay Associates was established nearly 20 years ago with the mission of being the best recruiter of PA and business support staff in London, and we've achieved this by being consistent in our values, attitude and work ethic, but evolving with the market and our clients to stay on top of our game.
---
Leave A Reply
Your email address will not be published. Required fields are marked *
Comments (0)
This thread has been closed from taking new comments.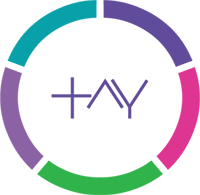 Email Tay
Subscribe
Keep up to date with Tay's latest news and market updates.